Posts made in June, 2015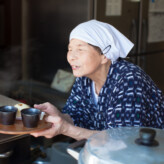 Vending Machines: So you're walking along and you start to feel a hint of thirstiness…it's a good thing that here in Tokyo you are never more than a few steps away from a drink vending machine. They are everywhere (and I mean everywhere) back alleys, outside shops, inside shops, train stations, train platforms, parking lots, street corners, hallways, walkways, stairways…literally everywhere. It is amazingly convenient and a little bit fun to be able to pick up a quick beverage (hot or cold) anytime you want on the cheap.
Cleanliness: With the exception of the occasional discarded cigarette butt, Japan is immaculate. Even public places that are highly traveled like subway stations and the fish market are incredibly clean and litter free. People here have a lot of respect for their surroundings and it's wonderful. Even some of the older subway cars looked like they had been cleaned every day for the last 40 years. The mystery though is that there is not very many trash cans so it's a little bit perplexing where all that trash is disappearing to. Additionally Japan was equally safe as it was clean which was a great change of pace compared to a few other places we have been. 
Toilets: Ok, so the toilets in Japan are super complex, and shall we say, really effective. They not only do the usual tasks of western toilets, but they also clean and dry your booty (and sometimes more!) If you get the chance to try one, we would highly recommend the experience. 
Wildly Entertaining Signs: We all know you should try to avoid falling on the tracks, but why just make a boring old caution sign when you can really animate the experience? Also, be sure to push the button. These kinds of signs were literally everywhere and this one was actually one of the easier ones to figure out. Some of the others were a total mystery.                
Yuruchara:Â Yuruchara are anime-style cartoon mascots that represent the various prefectures of Japan. Each yuruchara character can be seen on posters, brochures, and websites that treat visitors to a fun and inviting symbol of the area. This one was the cutest of them all from Himeji (notice the castle on her head).
The People: I can't say enough nice things about the people of Japan. Even in tourist areas, they were respectful, kind, and generous. Not once did we have a frustrating experience even when people didn't speak English (which was pretty often). They were more than willing to lend a helping hand, even when it meant a lot of pointing and gestures and many of them went out of their way to treat us kindly even though they knew we were tourists. This woman gave us five cups of tea (one for everyone in our party) even though only two of us ordered dumplings. Additionally, one woman walked us about a half mile to another restaurant when hers didn't have any tables open and the woman in the department store that we purchased our Yukata from spent an hour with us trying things on with only the most gracious of smiles. 
Great Food, Everywhere! I was expecting Japan to have some great high-end sushi, but I didn't expect literally everything to taste great…from the grocery store jelly snacks to the street cart dumplings to the udon noodle lunch shacks, a lot of pride is taken with food no matter how cheap. It was a pleasure to eat in Japan and we tried everything we could get our hands on with only one or two things that weren't our favorite. 
Communication Efficiency: The Japanese are master written communicators, especially when it comes to the subway. There was almost never a time where the signs didn't include exactly the information you were looking for…how long until the next train? which stations have free wi-fi? which side of the train the doors will open on? etc. etc. etc. It was quite impressive really, especially considering most of the signs were in Japanese, but also completely understandable to us. 
Jelly snacks! Um check out that photo below…enough said. We loved the jelly snacks so much that we brought a few home even though we had to make room in our liquids bag for them. 
Attention to Detail: When you buy something in a shop in Japan it will likely be beautifully wrapped for you on the fly…and taped with beautiful washi tape…and placed in a beautiful paper bag that is again taped…and placed in a larger beautiful bag with handles. It doesn't matter whether your purchase cost $1.00 or $100, the beautiful attention to detail is the same. Even the jelly snack pictured above was placed in a box, covered in tiny ice packs, and placed in a bag and taped shut for me…and it cost about $2.50.
Read More