Waffles, Van Gogh Museum, Pea Soup, Flower Market, Shopping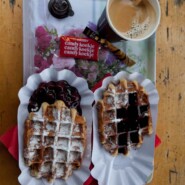 Sorry about the late blog post. We are having such a wonderful time here in Amsterdam that we have decided to extend our stay until Tuesday and then head back to London for one night instead of going to Brussels. Last night I couldn't post because I spent the time rearranging our train tickets and hotels. Overall we had a really great day…maybe our best yet. We woke up a little later (around 10ish) and walked down to Museumplein which is the area of town that houses most of the museums. We were pretty hungry at that point so we perused the carts that had setup shop along the park. One of them was selling waffles and that did it for me. I had the waffle with cherries and Andrew had the waffle with chocolate sauce. Both were piping hot having just come out of the waffle iron and sprinkled with powdered sugar. Mom, I thought of you because I know waffles are your favorite. It really hit the spot and we were off to the Van Gogh museum. We pre-bought our tickets from our last hotel so we go to cut the line and go right in. What an amazing experience. You can't really get a full appreciation of Van Gogh's work unless you are right there looking at the actual brush strokes. Plus we learned a lot about his motivations and tumultuous life that also gave us a deeper appreciation of his art. Overall it was a great experience and we didn't regret it one bit.
After that we walked a while to the flower market which is setup on permanent barges along one of the canals. It was so beautiful. They had all kinds of fresh flowers. Some we had seen before and others that we had not. They also had hundreds of varieties of tulips bulbs for sale of all colors, shapes, and sizes. We even saw jet-black tulips. By this time we were getting hungry for lunch so we stepped inside a small cafe that was advertising fresh Dutch pea soup. We ordered a bowl along with some fluffy UFO-shaped pancakes. Both were delicious. The pea soup was great. It was more like a pea stew though with carrots and potatoes. After that we shopped in lots of the the little boutiques that lined the streets. We found some great stuff and I'm just hoping it will all fit into our luggage on the way home.
After all the shopping we walked about a mile back to the hotel and got ready for dinner. When we first got here I had the concierge make us a reservation at Fifteen Amsterdam, a restaurant owned by British celebrity chef Jamie Oliver. It was all the way over by the train station we came in on so we had to take a taxi. It was a beautiful restaurant inside…part graffiti art part modern high fashion. When we first arrived they couldn't find our reservation, but that was quickly resolved and we were seated. As a snack, the chef made for us chickpea fritters with a saffron mayonnaise. For starters I ordered the sweet corn soup with chicken liver pate and Andrew had mozzarella with pesto and roasted pumpkin. Both were great, but I liked my soup better. For our entrees Andrew had the venison and I had the gnocchi with red pepper broth. We finished everything off with an amazing chocolate tart. Everything was wonderful except the sour cream-like whipped topping on the tart. It was almost like whipped cream made out of buttermilk. I thought it was okay, but Andrew promptly pushed it off to the side of the plate. Buttermilk in general isn't that uncommon here. One morning Andrew was given it instead of cream for his coffee. He had to make up for it with lots of sugar. :) Our trip is coming to an end soon and we will be home before you know it. Thanks for following our adventures on the blog. We miss you all. Au revior, Chelsie and Andrew
P.S. Andrew says I look very Dutch after seeing all the people here.