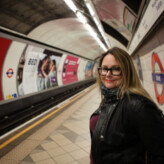 Photo of the Day: Chelsie London Tubing
Over the next few days we spent enjoying our flat and the neighboring shops and restaurants of Carnaby Street. Our flat is a one bedroom  AirBnB located on Poland Street. It is literally walking distance to hundreds of restaurants and shops, including BAO, Dishoom, Liberty of London, and everything between Oxford Circus and Piccadilly Circus Tube stations. I am not including too many photos because there is scheduled a spectacular lighting event of the streets for the holidays. Based on some of the prep work we see, it should be amazing.
Day 2 of our trip we were still acclimating to the time change and savoring our time sleeping in. London is a home away from home, so there is no urgency to visit the sights and sleeping in is part of our holiday. Yay sleep! For lunch we head over to Dishoom, it has to by one of my all time favorite restaurants. The food is so flavorful and comforting, we dove right in and forgot to take any photos. I'm sure we'll be back many times.
Later that evening we further explored the Kingly Court, a beautiful restaurant court in between Carnaby Street and Regent Street. Apparently there is a hidden 40s style Underground pub that requires a  reservation. We're hoping to book on evening to report back. When deciding to take a holiday this year, we were quite undecided between going back to Japan or London. Obviously we chose London, but there is something interesting and intriguing about the Japanese culture calling us back. Or maybe its the food. Lucky for us there was Shoryu, a Japanese Ramen restaurant that filled that calling. Chelsie enjoyed some amazing Yakimono Black Cod Misoyaki with some Sake, while I went no-holes barred for the traditional Kotteri Hakata Tonkotsu Ramen and Frozen Kirin. The Kirin is served at -4ºC with beer slushy on top; so cool!
Day 3, we continued our journey to places that called us back to London, specifically Tom Tom and Borough Market. Tom Tom has a special place in our heart, as our Cousin Mickey used to frequent this coffee shop when he lived here. It is in the most quaint neighborhood between (or a part of) Belgravia and Pimlico and has the best Flat White in town. We often stay a while here people watching. It's close to Victoria Tube Station and near many of the international Embassies are so the people watching is great; from folks traveling with suitcases to diplomats driving around in fancy cars. Very entertaining.
Later that afternoon, we head to Borough Market. I grab another flat white at Monmouth Coffee to accompany us on our food tour of the Market. Its a great coffee shop by the way.  Touring the markets offerings, we find  two  stalls that we try. First a local dairy stall offering a 1/2 pints of raw milk. Chelsie and I and give it a go. Wow, it's so rich and creamy! Watch out Happy California Cows, the Scottish cows are on point. Looking for something new to try, we find ScotchTails with freshly fried Scotch Eggs. Today's special, traditional pork scotch egg on a bed of rocket. This is something that we missed when we went to Scotland a few years back, and I was trying to use as an excuse to head back to Scotland. Well, ScotchTails delivers! What seemed to be a small snack was actually quite filling, the thick fried pork layer around an organic soft boiled egg (or however they make them). It was everything I hoped a scotch egg would be.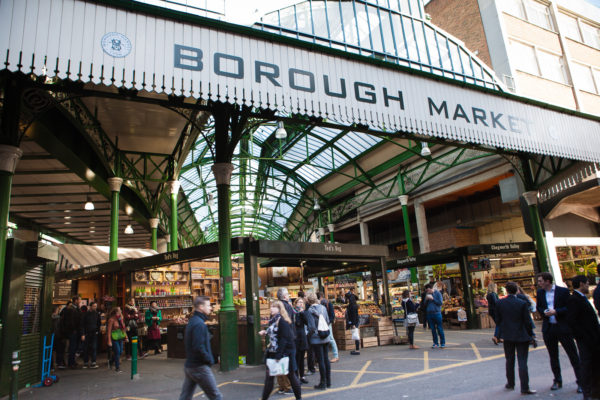 We wrapped up the late afternoon splitting up. Chelsie headed for a personal massage and went back to the flat to write yesterday's blog. For dinner we headed to Burgers & Lobster which, as you may have guessed, offers burgers and lobster. It was tasty but seemed a bit like a novelty restaurant. Chelsie's had their Lobster Roll which was the winner plate of the evening. Concluding our evening with a night cap from the Sun & 13 Cantons Pub. Cheers!
Read More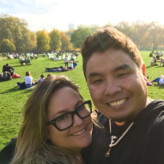 Well, we are back in London for 2016. With transition of Chelsie's new job and constant changes at SCE, this trip is long awaited and a well needed holiday. We were looking for some place where we could relax. Most folks would consider heading to Hawaii or a tropical island to lay on the beach to unwind; not us. London is our home away from home. Here we have our favorite spots in town and are very familiar with the tube and is easy for us to navigate. Our focus is to further explore the fantastic dining options while casually visiting our favorite landmarks. To continue the relaxing theme, we will condense a few days into each blog post. This way we can document our adventures without having the stress of nightly posts.
We departed LAX on a Sunday afternoon (October 30th) via Virgin America. We were lucky enough to have upgraded seats to Premium Economy on the new Dreamliner. The flight was fantastic! Chelsie took advantage of the comfortable seats and nearly slept the entire trip. As we flew over the eastern part of Canada, we were able to capture some amazing photos of the aurora borealis. They are so breathtaking to witness. With Chelsie enjoying her slumber in window seat, I struggled to capture the 15 second open shutter photo. Luckily one of the attendants allowed me into the Upper Class areas where I had full access to a window.
Our Airbnb flat is centrally located within walking distance of Carnaby Street. Conveniently, it is also within walking distance of two of our favorite restaurants, Bao & Nando's! We generally have a travel dining rule to always explore new restaurants instead of revisiting. However, these two are worth breaking this rule and we did it on our first two meals. Nando's is a South African food chain and is a great option if you don't have time to research your next restaurant or need something quick. Bao's Fried Chicken and Classic Bao was one of the reasons we decided to come back to London and select this location. Our favorite!
After dinner, we head to Westminster Tube station Exit 1 to view the London Eye & Big Ben.  If anyone is going to visit London for the first time, I always recommend taking this exit, especially in the evening. As you emerge from the Exit 1 tunnel, you are greeted by the twinkling light from the London Eye across the Thames River. While sulking in the view of the London Eye, you continue up the stairs and the towering Big Ben becomes visible. Its absolutely amazing. It was such an fun experience for us the first time, we continue to recreate it every time. Our evening ended with a walk to Westminster Abby.
Read More