London 2016! We're back.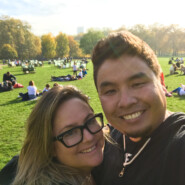 Well, we are back in London for 2016. With transition of Chelsie's new job and constant changes at SCE, this trip is long awaited and a well needed holiday. We were looking for some place where we could relax. Most folks would consider heading to Hawaii or a tropical island to lay on the beach to unwind; not us. London is our home away from home. Here we have our favorite spots in town and are very familiar with the tube and is easy for us to navigate. Our focus is to further explore the fantastic dining options while casually visiting our favorite landmarks. To continue the relaxing theme, we will condense a few days into each blog post. This way we can document our adventures without having the stress of nightly posts.
We departed LAX on a Sunday afternoon (October 30th) via Virgin America. We were lucky enough to have upgraded seats to Premium Economy on the new Dreamliner. The flight was fantastic! Chelsie took advantage of the comfortable seats and nearly slept the entire trip. As we flew over the eastern part of Canada, we were able to capture some amazing photos of the aurora borealis. They are so breathtaking to witness. With Chelsie enjoying her slumber in window seat, I struggled to capture the 15 second open shutter photo. Luckily one of the attendants allowed me into the Upper Class areas where I had full access to a window.
Our Airbnb flat is centrally located within walking distance of Carnaby Street. Conveniently, it is also within walking distance of two of our favorite restaurants, Bao & Nando's! We generally have a travel dining rule to always explore new restaurants instead of revisiting. However, these two are worth breaking this rule and we did it on our first two meals. Nando's is a South African food chain and is a great option if you don't have time to research your next restaurant or need something quick. Bao's Fried Chicken and Classic Bao was one of the reasons we decided to come back to London and select this location. Our favorite!
After dinner, we head to Westminster Tube station Exit 1 to view the London Eye & Big Ben.  If anyone is going to visit London for the first time, I always recommend taking this exit, especially in the evening. As you emerge from the Exit 1 tunnel, you are greeted by the twinkling light from the London Eye across the Thames River. While sulking in the view of the London Eye, you continue up the stairs and the towering Big Ben becomes visible. Its absolutely amazing. It was such an fun experience for us the first time, we continue to recreate it every time. Our evening ended with a walk to Westminster Abby.