Tea Tasting, Shopping, and a Spectacular Dinner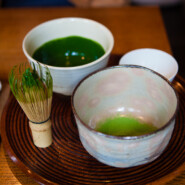 We were so excited to wake up this morning and head to this adorable little neighborhood called Teramachi Nijo near the Kyoto City Hall lined with antique shops and swarming with locals on bikes. The destination was Ippodo Tea Co., one of the most renowned tea shops in Japan. They have been providing the highest quality Japanese green tea for nearly 3 centuries. More than just a storefront, Ippodo is a multi-faceted tea company directly involved in the choosing and blending of carefully selected tea leaves. We got there pretty close to when they opened to ensure that we could get a seat at the Kaboku Tea Room. There we were shown how to taste three very different types of green tea…matcha, genmaicha, and hojicha. All were extremely tasty, but genmaicha (green tea with toasted rice) was my favorite and Andrew preferred hojicha (smoked green tea leaves). After that we headed on foot toward Takashimaya, a high end department store to scope out some Yukata (more casual kimono). On the way we found this really fun little pedestrian shopping street where we picked up a Kyoto Fire Department T-shirt for Andrew and some delicious fried chicken from a little stand. Coincidentally, the chicken stand was right next store to a beer stand. Very convenient, but at this point it was much to early for a beer. Something I didn't mention before is that you can essentially buy beer from most vending machines with no ID and, as far as we can tell, drink it almost anywhere.
Takashimaya did not fail to disappoint. It was a stunning high-end store with really beautiful Kimono. Andrew and I both tried a few on and chose two Yukata we think will be really nice for lounging at home. Unfortunately we weren't able to get any pictures, but Andrew's is navy with a few very thin while stripes and a jute-type belt and mine is light teal with white flowers and a purple sash. They are really comfortable and a beautiful souvenir of our trip to Japan.
Next it was back to the hotel to freshen up for dinner. Yesterday we made reservations at Kappo Sakamoto, a family-owned one Michelin Star restaurant in Gion. It was a tiny restaurant and when we first got there, we were the only patrons. The restaurant couldn't have been in a more picturesque location, on a quiet alleyway overlooking a small river. We enjoyed course after course of small dishes (15 in all), most of them nearing perfection. The chef was really friendly and spoke pretty good English so he was able to describe just about everything we were eating. It was certainly a highlight of the trip. Andrew and I both liked the cold smoked duck the best, but it was really difficult to choose a favorite. One of the best parts about the restaurant is that it is entirely family-owned and run with papa Sakamoto the founder, his son Ryuta the chef, and mama Sakamoto the hostess. They couldn't have been more kind and, as we were leaving, chef Ryuta even insisted in walking us all the way out and handed us a business card "for next time." After dinner, we took a slow stroll up the river and checked out some of the boisterous streets of Gion before heading back to the hotel in a cab.